Since the global financial crisis in 2008, we've observed a marked change in how financial brands communicate with their retail audience. Almost all leading banks and insurance companies have answered the call for more transparent and simple communications. Gone is the confusing jargon of yesteryear and the reams of convoluted disclosure information spawned on the desks of legal departments.
This new approach is epitomised by those companies who have completely revolutionised their tone of voice to foster better communications with their customers. There can be pitfalls to this approach, and some brands have made awkward missteps in this direction, but other brands are clearly hitting the mark, building credibility and trust through more simple and direct communications.  This blog looks at what's working well and why, as well as things to avoid when introducing a more approachable tone of voice.
Right place, right time
The rise of more familiar and accessible language in financial services is linked to changing attitudes and behaviour of customers and society in general. In only a few short years, we have gone from conducting most of our financial transactions face-to-face in a branch, to expecting to accomplish even complicated transactions online or via an app.[1] These formats lend themselves to short and simple language, indeed, often there simply isn't the space for lengthy wording.
Another shift to note is a growing acceptance that plain English is the best way to communicate even complex and formal material. Customers no longer expect serious firms to speak to them in formal and complicated ways. The 2016 Accenture Consumer Digital Banking Report found that "consumers want… a banking customer experience that is easy, seamless and relevant.[2]" Simple and clear language is a prerequisite to this experience.
Good examples and cautionary tales
Here are some of my favourite examples of financial services brands doing things differently, showing how a brand's tone of voice can transform or, in some cases, define its customer experience.
Re-connecting with your audience
Clydesdale and Yorkshire Bank launched its digital banking service, B, in May 2016, promising to "take the fear out of finance".  Based on extensive customer research, the service offers a fully digital banking experience and was designed to give people the ability to manage their money on the move. The app and the website are bright and colourful, and focused on showing customers how to get the most out of the service and their finances.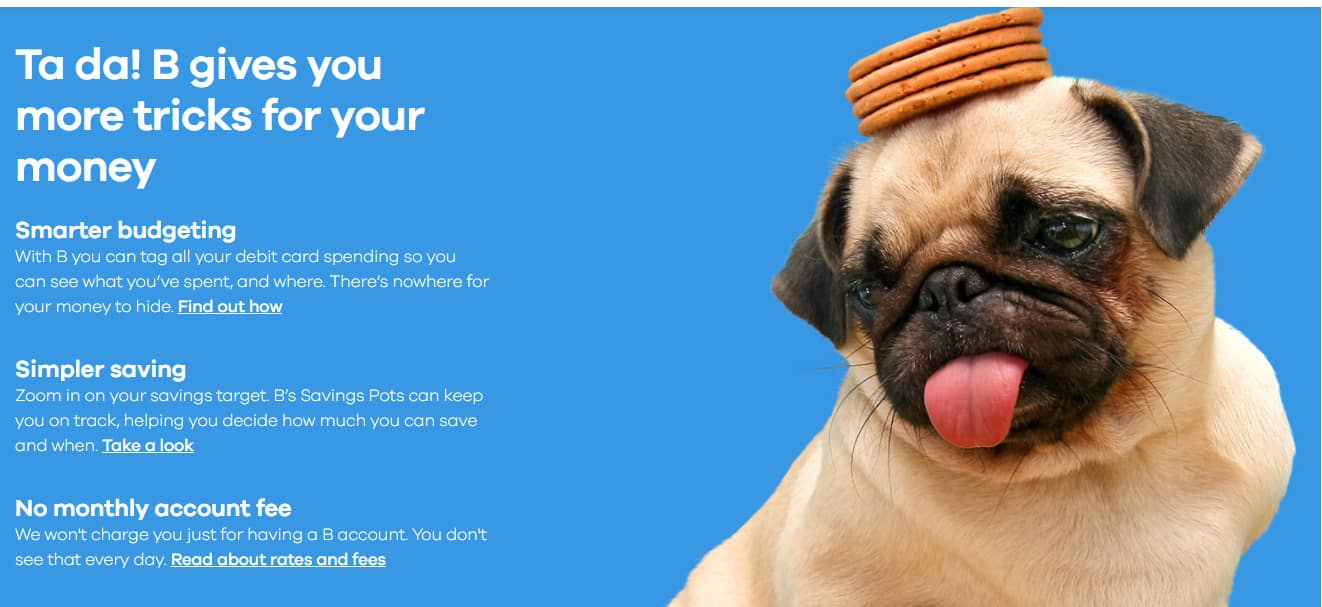 It uses simple, catchy headlines and taglines to describe its service, and the helpful and accessible tone of voice is consistent throughout.
Disrupting the status quo
Significantly, several companies seeking to challenge the traditional banking sector feature a conversational and friendly tone of voice to differentiate themselves.
Nutmeg was the UK's first online discretionary investment management company, founded by a former stockbroker, disillusioned by the "exclusivity and lack of transparency in the investment world."[3] The company's focus on complete transparency is epitomised by the simple and clear language it uses to explain its services to customers.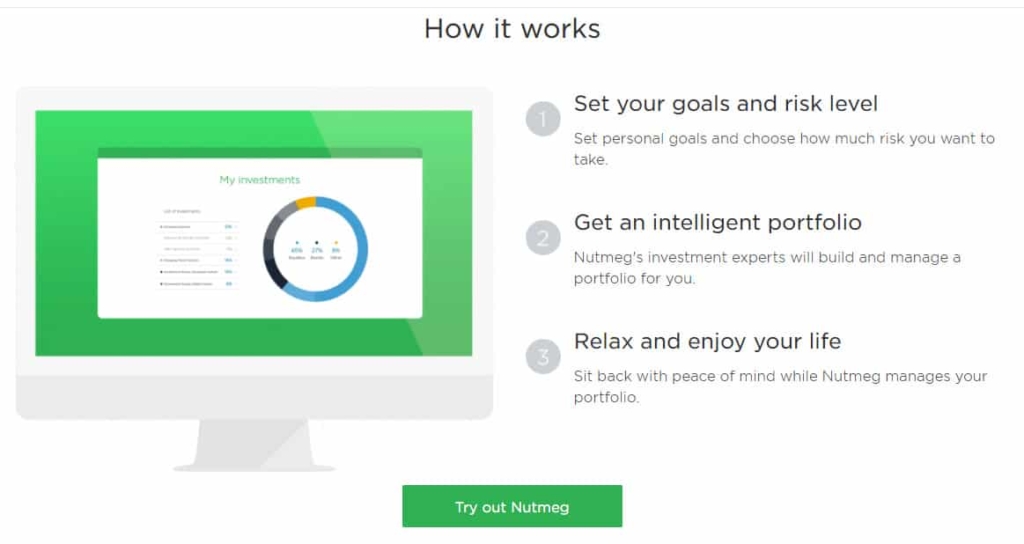 Monzo is another product which is making waves, but this time in the retail banking space, launching an app-only service with the tagline "It's time for a new kind of bank".  Its friendly, hassle-free language is a defining characteristic of its customer experience. It even boasts "extensive use of emojis" as one of its selling points.[4]
Both brands feature in Marketing Week's list of top 100 disruptive brands, along with other companies delivering inspiring, stimulating and intuitive marketing.
When a joke falls flat
Despite these success stories, companies need to be cautious when introducing a lighter tone to their communications. Recent research by the Nielsen Normal Group found that a playful tone of voice does not work for all companies and situations.[5]  It must be remembered that if customers are dealing with serious issues, they may not appreciate it when a company tries to be humorous or amusing. The example from social media below highlights this potential danger: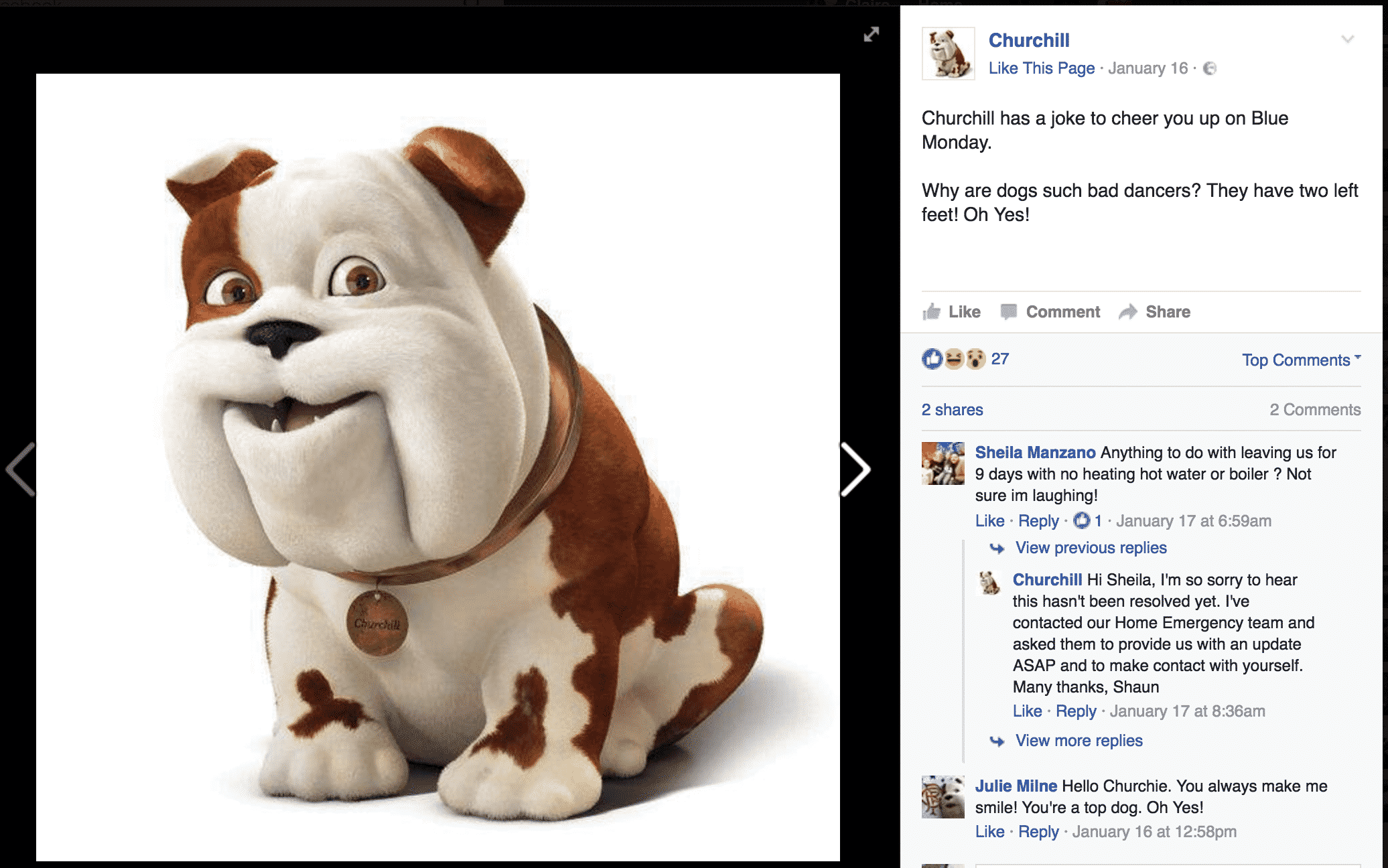 The company responded in the best way possible, contacting the customer first thing and seeking to resolve their problem immediately. However, it does show that not everyone will share your sense of humour, especially if they're in the midst of a grievance with your company.
The Goldilocks principle
The Nielsen research highlights that context is hugely important when it comes to interpreting tone of voice, but it's not easy to predict and can be intensely personal and subjective.[6] It seems the magic formula is to have just the right amount of spice to lighten up a tone of voice, but how do you know what the right amount is? The list below shows how too much of a good thing can get you into trouble: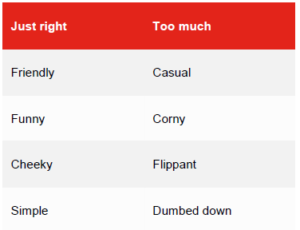 My final piece of advice? When in doubt, test, test, test!
"Tone of voice can, and should, be tested, just like other pieces of the user experience." – Nielsen Norman Group – The Impact of Tone of Voice on Users' Brand Perception

[1] http://www.pwc.com/gx/en/banking-capital-markets/publications/assets/pdf/pwc-new-digital-tipping-point.pdf
[2] https://www.accenture.com/us-en/insight-consumer-digital-banking-survey-2016
[3] https://www.nutmeg.com/about/the-nutmeg-story
[4] https://monzo.com/about/
[5] https://www.nngroup.com/articles/tone-voice-users/
[6] https://www.nngroup.com/articles/tone-voice-users/