HSBCs Together We Thrive: A conscious appraisal of unconscious bias
In a recent episode of the ever-popular BBC drama Luther, the embattled inspector shares a powerful thought: "An assumption is something you don't know you're making". For many, this is an epiphany, driving right at the heart of unconscious bias and the problems it poses for our society. Why start a discussion on HSBC with a quote from Luther? Random? Well, consider this piece of financial services copywriting…
Let's set it against the backdrop of views on HSBC's latest "Together We Thrive" campaign, featuring five "Not an Island" press ads. The campaign takes a copy-based advertising route that urges Brits to take a more optimistic, outward-looking view. It gently prods at the inextricably international nature of contemporary Britishness, focusing on four English cities.
Many commentators have quickly taken sides. Some argue that the advertising is too politically oriented. Some suggest it's Brexit-biased. While others (incredibly, some might say) question its relevance to their business and banking products. For our part, their words prompt a different thought. Is their attempt at internationalism actually an advert for unconscious bias? In choosing how to describe these English cities, have they in fact scored a stunning own-goal?
The purpose of the piece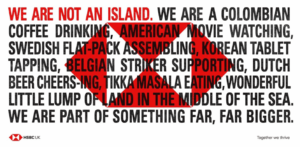 The intention of the campaign is to show the nuance and complexity of British identity, juxtaposing local icons of Britishness with their often-international origins. A cultural double-helix, if you like, of local history and international influence woven together.
The take-away is simple… we're already international, so let's be inclusive and make the most of it (which works equally for Remain, Brexit and all the permutations). It's a winner, right?
The own goal
Well, not quite. In describing cities across England (Leeds, Manchester, Birmingham, London) they have demonstrated the unconscious bias of the writers – a brilliant and award-winning team from JWT who (according to the credits on the campaign) also appear to be a young 25-35-ish team of four white media creatives in London.
Is it therefore a surprise that a third of the cultural references included feature football, curry, pubs, 90s indie bands and lads' lingo? Is that all we have to denote and define these places? Are the lighthouses of our culture really the colours of football fan affiliations, beer-swilling and ruby murrays?
Of course not. But it's what this team has defaulted to as their means of communicating. In so doing, it demonstrates the perils of unconscious bias. In attempting to demonstrate nuance, complexity and diversity, the writers inadvertently tapped into biased stereotypes as cultural reference points. It's lazy, lacking in imagination and self-awareness.
Words matter
For us, the campaign is a brilliant example of just how much words matter – not just the words we choose and their meaning, but also the words we don't choose. The frames of reference we place in, on and around communications shape the debate and display what and how we think. Consciously or unconsciously.
No doubt if the team turns their creative eyes west towards our Bristol office, cultural references to slavery, tobacco, rum-swilling pirates, Brunel and the not-so-glamorous Bristol City-Rovers blood feud would surely feature. But is that what Bristol is? To Bristolians? Not at all.
The right words can…
It's the words we choose, as well as the ones we don't, that shape the message.
Within a frame of reference that WE have the power to influence, the right words can explicitly speak to internationalism and openness. But they can also implicitly be an expression of the cosmopolitan, international and diverse cultural reflection HSBC wants to provoke in us.
In no way are JWT biased, or mis-representing things. If they had assembled a truly diverse team including men, women, young, old, local and international… these ads could have been a truer expression of the very idea they set out to communicate.
For more on financial services copywriting: