MailChimp is in the process of opening an online shop. Bananas or no bananas – here's why.
Who's MailChimp?
You may have seen that MailChimp is opening a shop. MailChimp is email marketing software (EMS) that sends billions of emails every month on behalf of customers – many of which are eCommerce companies. MailChimp has plenty of experience sending out effective email marketing campaigns. But what it doesn't have is any concrete, physical, built idea of the needs of retailers.
What's the idea?
To better understand its eCommerce customers, MailChimp decided to go through the entire process of conceptualising an idea for an online shop and bringing it to life. This process brings with it a whole slew of challenges, both foreseen and unforeseen.
By tackling these and charting its journey through a weekly email newsletter (of course) MailChimp aims to offer up some lessons for other eCommerce sites that are just starting out. All marketing platforms and agencies research their clients and try to understand their problems in order to sell them more effective strategies. MailChimp makes this process explicit and turns it into a two-way interaction, with learning opportunities and benefits for both the provider and the client.
The lessons we've learnt
1. Be personable
The weekly emails are informal and conversational in tone, lending a personal feel to MailChimp's endeavours. Each email documents its struggles to work out what the shop is going to sell, how it will feel, what its mission statement will be and what it will be called. The personable nature of the emails makes the challenges more relatable and the teachings more palatable.
2. Start at the beginning
Three weeks on from the initial announcement from MailChimp, we've followed the development of the online shop that is now called Freddie and Company. Freddie and Company exists to collaborate with creative people to make fun, unique products for good causes. To that end, it sells socks by Odd Pears and partners with Lost-N-Found, an LGBT charity in Atlanta. MailChimp tried to start with the naming process and quickly realised that the name – along with every other aspect of the brand – has to be led by the mission and the core values. In this case, collaboration, creativity and charity.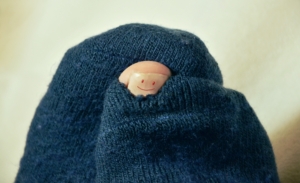 3. Keep your audience in mind
At every turn, MailChimp reminds its readers who this online shop is really about – the customers. This outward-looking and honest marketing campaign is likely to have engendered good feeling between MailChimp and its ecommerce customers.
Watch this space…
We will follow the next part of the story interest. Freddie and Company isn't open yet and MailChimp is being secretive about when we can expect the launch – but if the last few weeks are anything to go by, it will be low-key, easy going and full of personality. Keep up the good work, MailChimp!