According to recent figures, almost half of the global population now has access to the internet. With more and more people living virtual lives, the potential for reaching and transacting with customers online is huge. But with over 92,000 articles posted globally each day, it's critical you make your writing for digital channels as targeted, engaging and dynamic as possible.
Whatever sector you work in, be it retail, travel & leisure or financial services, the following hints, tips and insights could prove useful in helping you reach customers online.
A crowded market
How to make yourself heard in a crowded market is an age-old conundrum. But for modern companies that want to engage customers online, achieving standout and commercial advantage is a monumental challenge.
In a bid to attract, engage, fulfil and serve new and existing consumers, digital publishers and organisations are fast perfecting the art of generating high volumes of online content at a low cost. The Huffington Post, for example, publishes at least 1,200 pieces of content a day, Forbes around 400 a day, while WordPress produces 35.8 million new posts a month.
That's a lot of content. All of it underpinned by sophisticated content strategies and SEO programmes designed to achieve maximum visibility and impact. The question is: how, amid all this highly targeted and effective online output, are you going to ensure your company keeps pace and reaches the new generation of online consumers?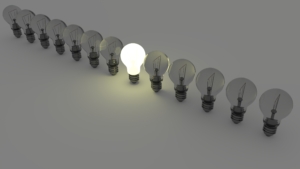 Modulate, innovate and keep it brief
Increased global access to the internet has triggered a major shift in consumer behaviour. While many customers still prefer the reassurance of face-to-face, store-based transactions, the rise of the virtual marketplace is driving up online sales figures. In the UK, 13% of total sales in 2013 were conducted online, with a new generation of customers embracing the convenience and immediacy of the digital purchase.
In order to reach this new and enfranchised consumer base, it's essential that you modulate your voice. Writing for online channels requires a fundamental shift in approach, tone and style. The world of online and mobile communications is dominated by social media character constraints, text abbreviations and short attention spans. A world of instant gratification where, as a Pew Internet study in the US recently confirmed, "a loss of patience and lack of deep thinking" is rife among internet users.
In short, brevity is king. To engage and retain your target audience online, your written content must be snappy, dynamic and to-the-point. You need to keep word count per sentence low. You also need to keep paragraphs short and break up pages with subheads to help guide and steer your readers.
The new online consumer will be looking for tantalising summaries and click-worthy headlines. You'll also need to keep abreast of ever-evolving digital trends and innovations to ensure your content is framed in a way that resonates. Because if users can't tweet it, snap it, like it or share it, they sure as hell won't read it.
Retail: rich clickings
For retailers, utilising online channels effectively is fundamental not only to success, but survival. In 2015, despite a disappointing year overall, Sainsbury's noted an increase in online sales and orders – up 9% and 15% respectively. And anticipating a further shift towards online shopping in the year ahead, the supermarket retailer plans to double its number of 'click & collect' sites in 2016.
As Sainsbury's boss Mike Couple explains: 'Retail doesn't stand still; stand still and you'll get taken over by competitive dynamics'.
Indeed, as BHS's recent slide into administration has illustrated, today's retail market is a harsh and unforgiving environment. And those retailers unable to meet the challenge of writing for online channels or finding innovative ways of engaging their audience are likely to feel the full force of those 'competitive dynamics'.
Cross-sector comparisons
For retailers, crisp, concise and compelling product descriptions are a core component of online content strategies. But for other sectors too, the ability to produce engaging high-volume content, while keeping all entries unique, can mean the difference between success and failure.
Travel and leisure companies, for example, rely on multiple accommodation and destination descriptors to sell their holiday or entertainment packages. Indeed, according to ABTA almost half (49%) of UK holiday makers now book their overseas trips online.
To ensure they remain competitive, travel firms need to produce content that can capitalise on the shift to online bookings. With this in mind, a quick cross-sector comparison to see how retailers are selling their wares could be hugely beneficial. What works for online home furnishing sales could prove just as effective for package tours to the Costa Brava.
Trust and traction
Equally, financial services companies would do well to consider lessons from other industries. According to research from the Content Marketing Institute, 78% of marketers in the financial industry now use content marketing. And 82% of those surveyed say they're looking to increase brand awareness and engagement through their online communications.
To increase traction and effectiveness, financial services marketers should think about producing targeted, problem-solving content that helps readers to address key concerns and issues. The Content Marketing Institute suggests such an approach can help to ensure "you are well positioned as a trusted resource" – in the same way that tech company online help desks are a source of reliable advice and guidance.
Because ultimately, to keep your consumers engaged you need to look elsewhere for inspiration. Don't feel restricted by sector conventions; adapt to change and embrace innovation. Borrow ideas and break the rules. Only in this way will you make your voice truly heard.