New market entrants have revolutionised the energy sector. Just as we've seen with financial services, digital-first entrants have put the power back in customers' hands, giving them more choice and autonomy over how they manage their energy. That's not all. Driven with a mission to make the world of energy a greener place, they've made eco-credentials a number one priority for many of us. The Big Six have had to change their ways to keep up. By revamping their digital offerings and adopting greener resources they have levelled the playing field. As a result, digital copywriting for energy companies is now working harder than ever to keep up. Here are some examples…
Website copywriting – a tool for driving home the message
Having dominated the UK energy sector for years, British Gas seems to have won and held the trust of thousands of customers. But it can't afford to rest on its laurels. New entrants promise a quick, easy switch, meaning 'why stay?' is now a much more difficult question for customers to answer. So, British Gas has responded with benefit-led messaging on its website. And it's effective.

Phrases like, "What else can we help you with?" and "Let us find a tariff that works for you and your wallet" make it clear that you, the customer, will be supported when you choose British Gas.
Social media – a thought-leading voice
Another of the Big Six, EDF, is using social media platforms to position itself as an industry leader. It is sharing whitepapers on green energy, blogs about air source heat pumps and insights into its Sizewell C nuclear power project. Here's an example of a LinkedIn post, and one that we felt had an authentic touch: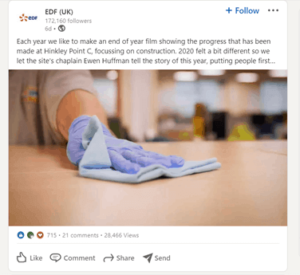 EDF has also managed to swerve the complaint culture that Twitter often creates by using the same thought-leader tactic. The next step will be boosting engagement to make real inroads in people's minds.
Green impacts, not greenwashing
Commitments to achieving net-zero and investing in renewable energy are almost a given when you browse an energy company's website. But many instances feel like empty promises, especially given that many companies still rely on some coal. Newer entrants are leading the charge on the green front. Many set up shop for this very reason – to make UK energy a greener sector – so their messaging is demonstrating their purpose. We're particularly impressed with Ovo's approach. Rather than taking a 'we're changing the world' position, its messaging is inclusive. Like this: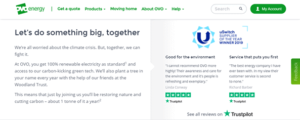 Here, the focus is on the customer. It demonstrates that we all play a part in combating climate change, but it doesn't feel like a lecture. Instead, we're empowered to make a difference, simply by signing up. And it feels modest, which sits well with our British cynicism too.
Tone of voice – improving the role of 'provider'
Hands up if you're proud of your energy provider. Anyone? For most of us, knowing we're getting value for money, that our plan is easy to manage, and perhaps that we've made a green choice is all we want to know about our energy provider. This makes creating brand personality a challenge for energy companies. But Octopus has used a strategy we admire and would recommend when creating digital copywriting for energy companies. And that's clarity. Judging by its website, transparency is a crucial component of its brand language. Unlike many of its competitors, Octopus is crystal clear about the different tariffs and what each one offers, which helps to build trust.
See here: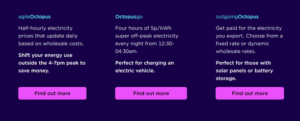 Octopus' voice is also playful in places, like this:

But the tone doesn't push the boundaries too far. It's pleasing on the ear, but the message is still given with absolute clarity.
User experience – do what you say
Bulb has mastered the art of showing, not telling. It promises a simple service. And this comes through in a seamless user experience in everything from its website to its app. Great design is crucial here in making it quick to find the answers you need, but the wording also helps. Take a look at the app screenshots below. Rather than trying to do things differently, it has followed a similar structure to banking apps. It means users can quickly get to grips with it without needing a 'tour' that most people skip anyway (just me?).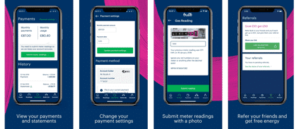 We particularly like this line on the submit meter readings screen: "Ignore any red numbers on your meter or anything after the decimal point." Even when read aloud, this sounds natural. You can imagine one of its customer support team saying this to you over the phone, which is spot-on for app copy.
What does the future of digital copywriting for energy companies look like?
As new competition continues to emerge within the energy sector, the 'so what?' factor will be vital for winning and retaining customers. All communications need to focus on creating useful, informative, and clear messages. Making life as easy as possible for customers through great user experience on every channel is key to keeping homes heated and customers happy.
Our specialist copywriters have written everything from whitepapers to websites for businesses across the energy sector. Speak to us about content writing support for your next project.