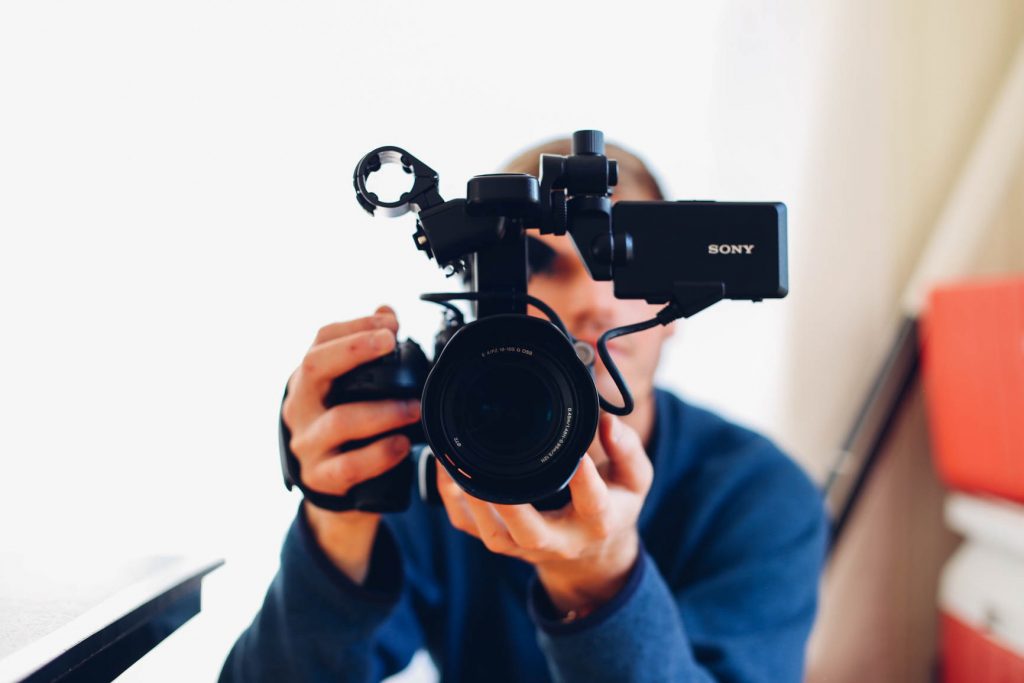 Enough of all the stats about the rise of video in marketing. If you don't know it's the next big thing, you must have been living under a rock.
What we want to discuss is how brands with different budgets can jump on the video bandwagon without shelling out thousands of pounds they simply don't have.
What even is 'video'?
15 years ago, we would have said a video is 'a film on a big tape that you put in the VHS player and it plays on your telly'. Ask a 15-year-old today and they will say 'it's a recording clip on YouTube – they're usually pretty funny'.
The first ever video was made in 1889 by Thomas Edison, and that might seem like forever ago but in the grand scheme of things it's pretty new. And that video was nowhere near as savvy as the videos produced today, even on a smartphone.
What I'm saying is video changes all the time, so if you want to get going with using it in your marketing strategy there is a shed load of artistic licence. Hallelujah.
A few ideas for the budget-strapped
Our thinking caps are burning. We're thinking outside the box, no pun intended, to find ways of using video to communicate your brand without breaking the bank.
Get others to do it for you
At Stratton Craig we love a bit of shopping, and a quick trip to Cabot Circus (in Bristol) was more inspirational than we could have expected. A huge wall has been transformed into a keyboard and if you press the different keys with your hands you can play a tune. It's called ActionWall and it asks you to make a video of playing a song as you jump around hitting the keys, then to share it on social media to be in with the chance of winning 25 quid to spend at one of the shops. According to NexusEngage, the company behind the idea, the wall gets an average of 16,232 plays per day1. That's an awful lot of people who could create different videos that all link back to the shopping centre's site.
While the wall itself may be pretty expensive, the idea of creating something interactive that people want to film can be as pricey or cheap as you like. Our advice – steal the idea.
Podcasts
Across the pond, podcast listeners are rising 23% year on year and it's a similar trend over here too2. The likes of S-Town, Break Up or Make Up and Desert Island Disks have got us hooked on listening to stories rather than reading them or watching them. An opportunity to carry on cooking, cleaning and doing life admin is a likely appeal for tuning in to these downloadable episodes. They're much cheaper to produce than videos and a few won't seem out of place on the blog page of your website. The trick is to make a mini-series where you develop a story, and it works well when there are at least a couple of presenters having a conversation. Your audience will feel weirdly involved – it's captivating. Discuss different topics and share tips – simple and effective. Just make sure you plan ahead with your content calendar to get a clear message across.
Pictures linked together
Don't worry, we're not suggesting you create a 2005-esque slideshow with images moving in front of the screen. We're thinking much faster. You must have seen those videos where someone takes a picture of themselves every day for 10 years and then links them all together in a one-minute clip. That sort of video is engaging – there's something satisfying about it that means you can't look away. Speed things up, whether you're showing an average day in the office, someone drawing a picture or creating a new design, or link up all of your team's photos in a 15-second reel. Choosing what to film is where the creativity comes in.
Strike the right balance
Going too video heavy with your content marketing isn't recommended. While most of us will happily watch a 20-second clip on Facebook before we switch off for sleep, when we want information we want it fast. Written content is easier to navigate than a video because we modern humans are generally good skim readers. After all, you don't know what's coming next in a video when you haven't created it. Our tip is to make sure you've got the important info written clearly and concisely so people can find out what they want to know before getting frustrated. The video fun can come later.
Last tip – get someone else to watch whatever you've created to give you honest, and I mean honest, feedback. You might worship your masterpiece, but you need your audience to. And with all content marketing, measuring is the key to long-term success.
1 http://www.nexusengage.com/portfolio_page/cabot-circus/
2 http://adage.com/article/digitalnext/podcast-predictions/307210/