In recent years, social media has seeped into business and transformed the way we expect companies to interact with us. We want to be engaged, entertained and informed. It's no longer enough for companies to tell us about their work; we now want them to add value to our lives and make their online content relevant. Which is why we've seen industries around the world – including the finance sector – embracing the power of content to connect with and engage audiences.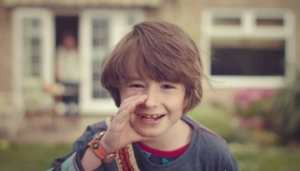 Still from Natwest's
Playing catch up
As you may expect, the more progressive industries were first off the mark in using content to boost their business. Travel companies harnessed the power of images and travel blogs to tantalise visitors, media companies created cutting edge websites to showcase their innovation, and food groups published mouth-watering recipes and blogs to drive product sales. The finance industry is finally taking note and getting on board the content revolution. Here are three of our favourite finance content campaigns of the moment:
Super-powered content
Barclays bank has created a section on their Business Banking website full of tips and advice as well as free seminars and workshops for those looking to start a business. The beauty of this is that it offers something for nothing – an approach everyone enjoys – while also reinforcing Barclays' expertise as one of the best to bank with as a small business.
Making it real
NatWest has done a great job at creating videos that show their services with a brilliant mix of information, emotion and entertainment. Instead of telling us why their services would enhance our lives, their video vignettes show us. Whether it's a snapshot of the commute in Mobile Banking on the 7.15 – NatWest's 'busiest branch' or the short but sweet The House That Built Jack (see pic above), their adverts capture the perfect tone. What's more, their YouTube channel houses a number of informative videos – from security tips to step-by-step guides.
One for fun
We've left this one till last because it's the most obnoxious – and the most amusing. John Paulson, the billionaire hedge fund manager, wanted to raise awareness of his forex trading platform, MahiFX. So he went in with a bang, creating You vs. John Paulson. This fun but possibly depressing website calculates how many minutes it takes John Paulson to make your annual salary. Other interactive tools include a slider, which compares the relative value of your expenses with John's. For example, "John dropping $400k is the equivalent of you buying a giant pretzel." Controversial it may be, but it gets the point across.