It's been pedal to the metal recently with coronavirus comms planning. Covid-19 hubs have sprung up across the web, and emails about online delivery and customer service have been making the rounds. Businesses have been focused on keeping their stakeholders informed, and rightly so.
Although almost everyone has found the time to whip up a Covid-19 hub, there are a few businesses that haven't remembered to edit their online assets to remove any wording that's misleading or off message. So some customers are still being encouraged to 'pop in and have a look around' or to 'plan their summer 2020 getaway'. How awkward.
With the effects of the coronavirus outbreak set to continue for a number of months, we recommend doing a web content audit now to make sure your online marketing is consistent. An audit can be pretty quick and cost-effective because you'll usually find some quick wins to get you back on track.
These examples show that even well-known brands across the globe have missed this content strategy trick.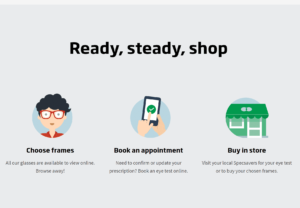 Most of Specsavers' homepage is right on the money in terms of tone and messaging for the current situation, but this section felt out of place. Customers can't buy in store and won't be able to book appointments.
The tone sounded incongruous too. 'Browse away!' is somewhat cheery for life during the lockdown, and we feel the strapline "ready, steady, shop" sends the wrong message given the current shopping experience.

You had to dig a little on the homepage to find this asset because most of the page gives useful updates about how Travelodge is supporting people during coronavirus. But when you come to the promotions about for going for 'a walk through a stunning national park' or going on an Easter egg hunt, it immediately jumps out at you for being off message.

The following asset marketing business stays also feels inappropriate. The phrasing 'cutting down your commute' instantly sounds an alarm, and the tone also feels quite upbeat when lots of businesses are under pressure.

We think Nuffield Health may want to rethink its comms strategy in light of the coronavirus. The proposition "building a healthier nation" feels out of place, if not a bit tone deaf, during a health crisis. Something softer or more supportive of individuals would be more appropriate.
The wording 'treat yourself' for the asset about beauty treatments also sends out an untimely message. This is a brand that should be focusing on how it can support people's health and wellbeing during the crisis.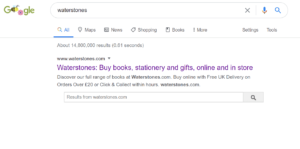 Waterstones will no doubt be helping people get through lockdown with lots of brilliant reads. Its homepage is largely the same as usual – marketing bestsellers. However, the wording 'in-store' still pops up on a Google search. This would be a quick fix, but perhaps no-one internally has checked this customer touchpoint recently.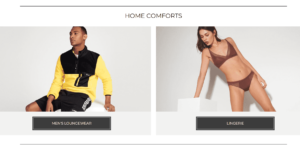 There are a few discrepancies on House of Fraser's homepage, which would be spotted on a thorough content audit. Aside from the 'Find your nearest store section', we felt that the suggestion of 'lingerie' under the heading 'home comforts' wasn't the right choice. (I'm sure I don't need to explain myself here!)
Now for the shining example. The North Face is all about exploration, so the brand positioning was up against a challenge in light of the global lockdown. However, we think it has pulled through with this lovely statement.
At first, we thought we'd found stumbled into pre-coronavirus territory. But it did make us smile when we realised that it was tackling the circumstances head on with a creative and crystal-clear comms strategy.

A web content audit may sound like a huge task, but in our experience, it can be a quick and cost-effective way to make sure your site is still on tone and message. Our specialist content strategy team can provide an outsider's perspective and expertise on how to quickly fix any wording that could undermine your brand. Get in touch if you'd like to know more about comms planning during a crisis.