When meeting people for the first time – be it at a networking event, a neighbour's barbecue or down the local pub for post-work drinks – one of the first questions anyone asks is 'What do you do?'.
It's a question we've fielded so often that we have the answer down rote. Answering "I'm a copywriter" isn't as simple as, for instance, explaining that you're a teacher or nurse. Copywriting is a mystery to most people.
The first thing we explain, when greeted with blank faces, is that we don't work in copyrighting, or anything else to do with intellectual property. "I write copy" provokes only more deadpan looks. "I write slogans, websites and blogs", we say, and you can see the lightbulb turn on.
People outside the world of sales and marketing have rarely heard the word 'copy' used as a noun. Yet everyone sees countless examples of the work copywriters produce every day. Some of it is even memorable. And it doesn't take a trained eye to tell the good from the bad.
That's because bad copy is everywhere.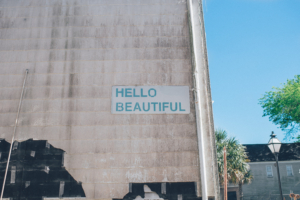 At best it's invisible – humdrum, lifeless, but inoffensive. It offers nothing to differentiate your business from the next, for better or worse. Your eyes flick away to the next ad, entirely unmoved.
At worst it's blessed with an embarrassing error that paints your organisation as careless (and costs you heavily in reprinting), or is naïve to the point of ridicule.
Words are omnipresent and will always be the best way of getting your messages across, so getting them right is fundamental. We're always told that a picture tells a thousand words, but you rarely see an advert that relies on strong art direction alone.
Marketers are almost expected to be copywriters these days, but having access to a keyboard and an adequate grasp of the English language doesn't cut the mustard. It's a skill that takes years to hone, and is as much about insight as it is about a broad vocabulary. 'Just Do It' is just three simple words, but represents an entire brand in one thought.
Gail Goodman's 10 Commandments is a great place to start if you're coming at this as a total novice, but we haven't just pulled this together as Writing 101 for would-be writers. Even the most experienced copy experts will find a useful new insight somewhere. We did, after all.
Wondering why your e-mailshot advertising 'risk-free investment solutions' hasn't landed any punches? Dean Rieck's list of 100 spam-filter trigger words is utterly eye-opening and will transform your approach to DM.
We know the best copy works hand-in-hand with the best design, too, so plenty of the links we've collated incorporate graphic design tips as well. One such example is Joanna Wiebe's guide to improving call-to-action (CTA) buttons, which can transform your click-through rate.
Browse and re-browse to find helpful nuggets, then Bookmark the page – you'll find yourself turning to it time and again as you optimise your copy.
If you've spotted something useful you think we should add, let us know in the comments or share it with us on Twitter @strattoncraig.